Responsibility, Expertise and Trust: Institutional Ethics Committees and Science
Suzanne Uniacke

Centre for Applied Philosophy and Public Ethics, Charles Sturt University, Australia
Keywords:
expertise, peer review, ethics committee
Abstract
This paper addresses what should be an important question for many institutional ethics committees: How might they justifiably trust external peer review of the scientific merit of research proposals under their consideration, since these committees are typically not constituted to review the science themselves?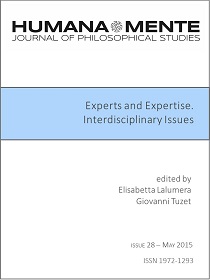 How to Cite
Uniacke, S. (2015). Responsibility, Expertise and Trust: Institutional Ethics Committees and Science. HUMANA.MENTE Journal of Philosophical Studies, 8(28), 169-185. Retrieved from https://www.humanamente.eu/index.php/HM/article/view/86
Copyright (c) 2015 the author
This work is licensed under a Creative Commons Attribution-NonCommercial-NoDerivatives 4.0 International License.