The End of the World? Mental Causation, Explanation and Metaphysics
Michele Di Francesco

NEtS, Institute for Advanced Study, IUSS Pavia, Italy

Alfredo Tomasetta

NEtS, Institute for Advanced Study, IUSS Pavia, Italy
Keywords:
explanatory practices, metaphysics, negotiation model
Abstract
In this paper we offer some ideas on the relationship between metaphysics of causation and common explanatory practices of behaviour. We first suggest a sort of "negotiating model" for theorizing about mental causation, and then examine the so-called causal closure argument focusing on some morals one can draw from it that further illustrate the model we recommend.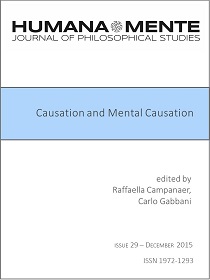 How to Cite
Di Francesco, M., & Tomasetta, A. (2015). The End of the World? Mental Causation, Explanation and Metaphysics. HUMANA.MENTE Journal of Philosophical Studies, 8(29), 167-190. Retrieved from https://www.humanamente.eu/index.php/HM/article/view/72
Copyright (c) 2015 the author
This work is licensed under a Creative Commons Attribution-NonCommercial-NoDerivatives 4.0 International License.