The Institution and the Symbol. Rethinking Social Practices through Durkheim's Sociology
Mélanie Plouviez

Côte d'Azur University
Keywords:
the institution, the pre-established, the symbol, social practices, Émile Durkheim, Marcel Mauss, Paul Fauconnet, Georges Gurvitch
Abstract
This article studies the Émile Durkheim's definition of the institution as a way of thinking and acting that the individual finds pre-established. The criterion of pre-establishment is questioned here and distanciated from the interpretation that Georges Gurvitch proposed, which identifies it with repetition. Articulated with his theory of social symbolism, the Durkheimian sociology of institutions allows us to go beyond the opposition between the necessity of the instituted and the aleatory character of the instituting. It enables one to think a necessity of that which institutes without reducing it to what is instituted.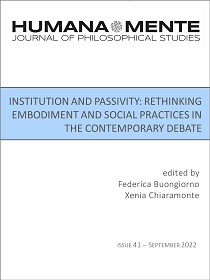 How to Cite
Plouviez, M. (2022). The Institution and the Symbol. Rethinking Social Practices through Durkheim's Sociology. HUMANA.MENTE Journal of Philosophical Studies, 15(41), 87-102. Retrieved from https://www.humanamente.eu/index.php/HM/article/view/390
Copyright (c) 2022 Mélanie Plouviez
This work is licensed under a Creative Commons Attribution-NonCommercial-NoDerivatives 4.0 International License.