Scientific Pluralism, Consistency Preservation, and Inconsistency Toleration
Otávio Bueno

University of Miami, USA
Keywords:
Scientific disunity, inconsistent scientific theories, inconsistency-toleration
Abstract
Scientific (disunity) pluralism is the view according to which there is a plurality of scientific domains and of scientific theories, and these theories are empirically adequate relative to their own respective domains. Scientific monism is the view according to which there is a single domain to which all scientific theories apply. How are these views impacted by the presence of inconsistent scientific theories (in particular, theories that are inconsistent with one another)? There are (A) consistency-preservation strategies and (B) inconsistency-toleration strategies. Among the former, two prominent strategies can be articulated: (A1) Compartmentalization and (A2) Information restriction. Among the inconsistency-toleration strategies, we have: (B1) Paraconsistent compartmentalization and (B2) Dialetheism. In this paper, I critically assess the adequacy of each of these four views.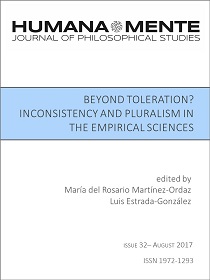 How to Cite
Bueno, O. (2018). Scientific Pluralism, Consistency Preservation, and Inconsistency Toleration. HUMANA.MENTE Journal of Philosophical Studies, 10(32), 229-245. Retrieved from https://www.humanamente.eu/index.php/HM/article/view/39
Copyright (c) 2017 the author
This work is licensed under a Creative Commons Attribution-NonCommercial-NoDerivatives 4.0 International License.