LGBTQ Identities and Hermeneutical Injustice at the Border
Anna Boncompagni

University of California, Irvine
Keywords:
Epistemic Injustice, Hermeneutical injustice, Hinge epistemology, LGBTQ, Sexual identity, Gender identity, Wittgenstein
Abstract
This paper applies the framework of epistemic injustice to the context of the asylum process, arguing that asylum seekers are typically at risk of this kind of injustice, which consists in their not being considered credible and not being listened to due to prejudices toward their social identity. More specifically, I address hermeneutical injustice in the adjudication of LGBTQ asylum claims, as well as the possibility of developing practices of hermeneutical justice in this context. I start with a general analysis of epistemic injustice in the asylum process, examining the different ways in which stereotypes and prejudices hinder the process (section 1). Next, I focus on hermeneutical injustice in LGBTQ cases (section 2). In section 3, I expand on the possibility of developing hermeneutical justice in this context. Finally, I conclude by hinting at hinge epistemology as a feasible framework for research on hermeneutical injustice and justice, and at broader theoretical themes stimulated by this reflection.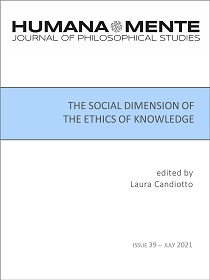 How to Cite
Boncompagni, A. (2021). LGBTQ Identities and Hermeneutical Injustice at the Border. HUMANA.MENTE Journal of Philosophical Studies, 14(39), 151-174. Retrieved from https://www.humanamente.eu/index.php/HM/article/view/361
Copyright (c) 2021 Anna Boncompagni
This work is licensed under a Creative Commons Attribution-NonCommercial-NoDerivatives 4.0 International License.