Civility in the Post-truth Age
An Aristotelian Account
Maria Silvia Vaccarezza

Università di Genova

Michel Croce

University College Dublin
Keywords:
civility, civic virtues, Aristotle, deliberation, post-truth age, misinformation
Abstract
This paper investigates civility from an Aristotelian perspective and has two objectives. The first is to offer a novel account of this virtue based on Aristotle's remarks about civic friendship. The proposed account distinguishes two main components of civility—civic benevolence and civil deliberation—and shows how Aristotle's insights can speak to the needs of our communities today. The notion of civil deliberation is then unpacked into three main dimensions: motivational, inquiry-related, and ethical. The second objective is to illustrate how the post-truth condition—in particular, the spread of misinformation typical of the digital environments we inhabit—obstructs our capacity to cultivate the virtue of civility by impairing every component of civil deliberation. The paper hopes to direct virtue theorists' attention to the need to foster civic virtues as a means of counteracting the negative aspects of the post-truth age.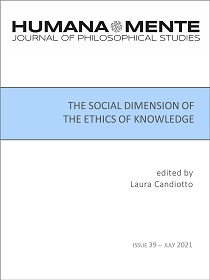 How to Cite
Vaccarezza, M. S., & Croce, M. (2021). Civility in the Post-truth Age. HUMANA.MENTE Journal of Philosophical Studies, 14(39), 127-150. Retrieved from https://www.humanamente.eu/index.php/HM/article/view/358
Copyright (c) 2021 Maria Silvia Vaccarezza, Michel Croce
This work is licensed under a Creative Commons Attribution-NonCommercial-NoDerivatives 4.0 International License.