COVID-19 and Human Rights Law: A Legal and Philosophical Approach
Marzia Marastoni

Graduate Institute of International and Development Studies (IHEID), Geneva (Switzerland)
Keywords:
state of emergency; legal philosophy; political philosophy; human rights; COVID-19
Abstract
At the time of writing, an infectious disease, named COVID-19, has spread globally, resulting in the on-going pandemic. For this reason, more than ever it is fundamentally important to address the issue on how to allow government sufficient discretion, flexibility, and powers to deal with emergencies, such as COVID-19, while respecting the rule of law. Notably, there are some exceptional situations where States can restrict or derogate from certain human rights. Yet, what are the moral principles that should guide democracies when dealing with the limitation or suspension of rights in times of public emergencies? Through the lenses of utilitarianism and liberalism, this paper aimed at providing both a legal and a philosophical overview of the limitation, or suspension, of human rights in emergency situations – such as the COVID-19 pandemic. The legal-philosophical approach of this paper is, therefore, fundamental in order to understand the current situation. In other words, the legal-philosophical approach of this paper will help to understand the current challenges for human rights during times of crisis. To understand why we are where we are.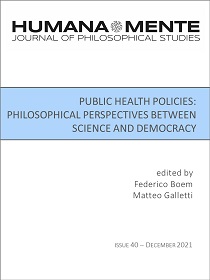 How to Cite
Marastoni, M. (2021). COVID-19 and Human Rights Law: A Legal and Philosophical Approach. HUMANA.MENTE Journal of Philosophical Studies, 14(40), 55-87. Retrieved from https://www.humanamente.eu/index.php/HM/article/view/344
Copyright (c) 2021 Marzia Marastoni
This work is licensed under a Creative Commons Attribution-NonCommercial-NoDerivatives 4.0 International License.