Scientific Protocols as Recipes: A New Way to Look at Experimental Practice in the Life Sciences and the Hidden Philosophy Within
Federico Boem

Università degli Studi di Firenze
Keywords:
biology, experiments, manipulation
Abstract
The experimental practice in contemporary molecular biology oscillates between the creativity of the researcher in tinkering with the experimental system, and the necessity of standardization of methods of inquiry. Experimental procedures, when standardized in lab protocols, might definitely be seen as actual recipes. Considering these protocols as recipes can help us understand some epistemological characteristics of current practice in molecular biology. On the one hand, protocols represent a common ground, i.e. the possibility of reproducibility, which constitutes one of the essential properties for contemporary science to define an actual discovery. At the same time, however, protocols are flexible enough to be adapted by the individual researcher (within a space of maneuver given by the experimental system and by the practices that each individual discipline gives to itself) to his/her specific needs. These variations, just like the recipes, remind us that the legitimacy of an experimental practice, involves both objective and subjective constraints and it is articulated on a fuzzy background rather than a rigid and clear context. Moreover, looking at experiments according to this perspective can provide a key to understanding how different forms of science (which adopt different methodologies but which investigate the same phenomena), such as computational biology, are precisely different in the use of a different "cookbook".Indeed, given the procedural/operational realism of biologists towards phenomena, the clash of different procedures has opened a discussion also about the nature and the meaning of the obtained results. Thus, according to the recipe-perspective that, the methodological struggle over the nature of biological phenomena (and their ways of discovery) among scientists, might be seen as a not always explicit, epistemological debate, however coming from the practice of science itself.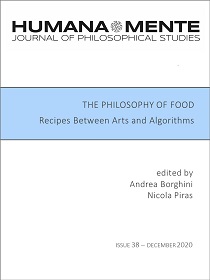 How to Cite
Boem, F. (2020). Scientific Protocols as Recipes: A New Way to Look at Experimental Practice in the Life Sciences and the Hidden Philosophy Within. HUMANA.MENTE Journal of Philosophical Studies, 13(38), 281-299. Retrieved from https://www.humanamente.eu/index.php/HM/article/view/326
Copyright (c) 2020 Federico Boem
This work is licensed under a Creative Commons Attribution-NonCommercial-NoDerivatives 4.0 International License.