Theory and Practice in Art & Design Education and Dyslexia: The Emancipatory Potentials of a Neurodiversity Framework
Lynda Fitzwater

University for the Creative Arts, Epsom, London, UK
Keywords:
neurodiversity, academic writing, education
Abstract
In the UK, Art and Design Higher Education currently faces multiple challenges regarding its validity, efficacy and cultural value. These challenges are tractable against a complex historical background of successive governmental agendas aimed at both widening social participation and increasing professionalization/standardization. A specific problematic in this context is the teaching of 'critical', 'theoretical', or 'cultural' studies components on undergraduate degrees especially where written outputs are viewed as separate to visual work. The complexity of equitable and effective instruction is increased by the high proportion of neurodiverse, as opposed to neurotypical, learners engaging with this sector of education. In this paper, the pedagogic potential of re-interpreting the problematics of traditional academic writing for Arts students through a neurodiversity framework will be assessed through case studies of the two primary dynamics evidenced in literature, both of which are at play in the teaching of non-visual concepts to art and design students. Adopting a neurodiverse framework, so I will argue, undermines the most pernicious aspects of neoliberal management routed through competitive differences, and empowers students to access truly emancipatory forms of learning.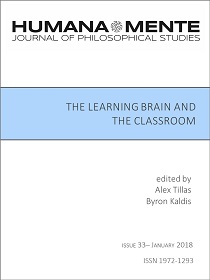 How to Cite
Fitzwater, L. (2018). Theory and Practice in Art & Design Education and Dyslexia: The Emancipatory Potentials of a Neurodiversity Framework. HUMANA.MENTE Journal of Philosophical Studies, 11(33), 121-143. Retrieved from https://www.humanamente.eu/index.php/HM/article/view/28
Copyright (c) 2018 the author
This work is licensed under a Creative Commons Attribution-NonCommercial-NoDerivatives 4.0 International License.