Emotions and Literature in Musil
Zeynep Talay Turner

Assist. Prof. in Istanbul Bilgi University, Istanbul.
Keywords:
emotions, compassion, sympathy, literature, Musil
Abstract
The question of how literature can evoke emotions is a familiar one, as is the idea that a good work of literature arouses the right emotion in the right place through our capacity for sympathy. However, there is no consensus on how this works, partly because there is no agreement on the nature of emotions. One figure that contributes to both of these topics is Robert Musil. As a thinker and as a novelist, he had both a theory of emotions and a novelistic treatment of them. His novels are notable, however, for the way in which they do not appeal to the reader's capacity for sympathy, owing partly to the formlessness of his characters. Yet it is precisely the gap he creates between fiction and emotional reality that allows for a richer investigation of the relationship between emotions and literature.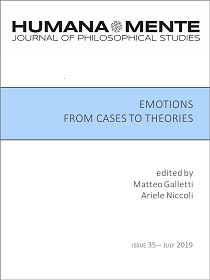 How to Cite
Talay Turner, Z. (2019). Emotions and Literature in Musil. HUMANA.MENTE Journal of Philosophical Studies, 12(35), 303-324. Retrieved from https://www.humanamente.eu/index.php/HM/article/view/252
Copyright (c) 2019 Zeynep Talay Turner
This work is licensed under a Creative Commons Attribution-NonCommercial-NoDerivatives 4.0 International License.