Time Really Passes
John D. Norton

Department of History and Philosophy of Science, University of Pittsburgh, USA.
Keywords:
Metaphysics, Passage of Time, Modern Physics
Abstract
It is common to dismiss the passage of time as illusory since its passage has not been captured within modern physical theories. I argue that this is a mistake. Other than the awkward fact that it does not appear in our physics, there is no indication that the passage of time is an illusion.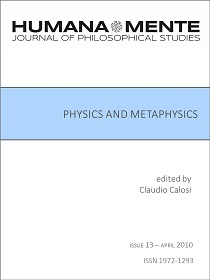 How to Cite
Norton, J. (2018). Time Really Passes. HUMANA.MENTE Journal of Philosophical Studies, 4(13), 23-34. Retrieved from https://www.humanamente.eu/index.php/HM/article/view/228
Copyright (c) 2010 the author
This work is licensed under a Creative Commons Attribution-NonCommercial-NoDerivatives 4.0 International License.