Updating the philosophical concept of form (morphé) as the embodied structural and teleological informational program in human beings
Alberto Carrara

Department of Philosophy, Pontifical Athenaeum Regina Apostolorum of Rome, Italy
Keywords:
morphé, Thomas Aquinas, teleology
Abstract
The contemporary philosophy of mind and neuroethics are two of the liveliest fields of interdisciplinary reflection which deal with the everlasting topic: what/who we essentially are. One of the many questions that can be tackled in order to go deep in this knowledge is: why man is naturally inclined towards specific tiers for survival which constitute his/her teleological project of flourishing? Two different, but complementary, answers are brought to light in this work. The author argues for an apparently obvious, but relatively underexplored view of the classical hylomorphic concept of form (morphé), not just as the information that characterizes the organization of human body, but also as the intrinsic final reason why, through a specific type of bodily (brain) structure, the human being develops his/her natural inclinations and behaves according to them. The author advances the argument in terms of an upward comparison between the threefold levels of Thomas Aquinas' natural human inclinations according to Summa Theologiae I-II, question 94, article 2, and the pioneering structural and functional "Triune Brain" model developed from 1949 to 1952 by Paul MacLean. The hylomorphic view sketched is profoundly different from a purely materialistic conception of teleological processes of human behavior, and it is a plausible explanation that motivates and invites further considerations and research.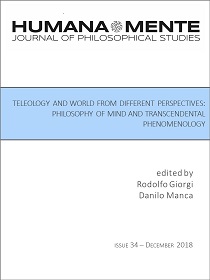 How to Cite
Carrara, A. (2018). Updating the philosophical concept of form (morphé) as the embodied structural and teleological informational program in human beings. HUMANA.MENTE Journal of Philosophical Studies, 11(34), 1-15. Retrieved from https://www.humanamente.eu/index.php/HM/article/view/211
Copyright (c) 2018 the author
This work is licensed under a Creative Commons Attribution-NonCommercial-NoDerivatives 4.0 International License.