Remnants of Psychoanalysis. Rethinking the Psychodynamic Approach to Self-Deception
Massimo Marraffa

Roma Tre University, Italy
Keywords:
self-deception, psychodynamic approach, defense mechanisms
Abstract
This article reflects on the phenomenon of self-deception in the context of the psychodynamic approach to defense mechanisms. Building on Giovanni Jervis' criticism of psychoanalysis, I pursue the project of a full integration of that approach in the neurocognitive sciences. In this framework, the theme of self-deception becomes a vantage point from which to sketch out a philosophical anthropology congruent with the ontology of neurocognitive sciences.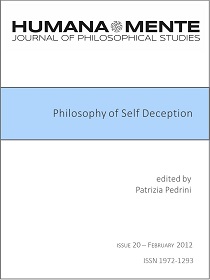 How to Cite
Marraffa, M. (2012). Remnants of Psychoanalysis. Rethinking the Psychodynamic Approach to Self-Deception. HUMANA.MENTE Journal of Philosophical Studies, 5(20), 223-43. Retrieved from https://www.humanamente.eu/index.php/HM/article/view/203
Copyright (c) 2012 the author
This work is licensed under a Creative Commons Attribution-NonCommercial-NoDerivatives 4.0 International License.