The Therapeutic Value of Intellectual Virtue
Mark Young

Red Deer College, Alberta, Canada
Keywords:
self deception, therapeutic value, self-diagnosis
Abstract
The focus of this article is to offer an account of how the development of one's intellectual character has therapeutic value in the attempt to overcome self-deception. Even stronger, the development of intellectual character has necessary therapeutic value in regard to self-deception. This account proceeds by first consulting the predominant psychological theory of virtuous character offered by contemporary virtue ethicists and virtue epistemologists. A motivational/dispositional account of self-deception is then offered and connected to the former account of intellectual character. By connecting these two sets of literature the therapeutic value of intellectual virtue is displayed. The problem of self-diagnosis is then presented as well as intellectual character as a necessary therapeutic measure to assure agents that they are not self-deceived.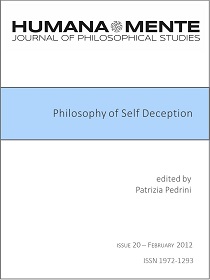 How to Cite
Young, M. (2012). The Therapeutic Value of Intellectual Virtue. HUMANA.MENTE Journal of Philosophical Studies, 5(20), 175-201. Retrieved from https://www.humanamente.eu/index.php/HM/article/view/200
Copyright (c) 2012 the author
This work is licensed under a Creative Commons Attribution-NonCommercial-NoDerivatives 4.0 International License.