Narrative and Self-Deception in La Symphonie Pastorale
Julie Kirsch

D'Youville College, Buffalo, New York, USA
Keywords:
self-deception, personal narrative, André Gide's Pastoral Symphonie
Abstract
Is it possible to develop a personal narrative that is not fictitious or self-deceptive? In this essay, I will look at the way that personal narratives contribute to self-deception. In so doing, I will consider the narrative that the narrator or pastor of André Gide's Pastoral Symphonie develops while reflecting upon his romantic relationship with his blind adopted "daughter", Gertrude. Although the pastor's narrative is largely self-deceptive, we need not fear that all narratives are equally delusional. When a narrative is not self-deceptive, it can make a positive contribution to self-knowledge and moral understanding.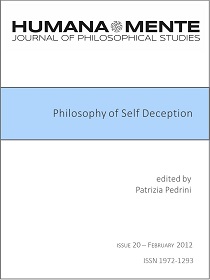 How to Cite
Kirsch, J. (2012). Narrative and Self-Deception in La Symphonie Pastorale. HUMANA.MENTE Journal of Philosophical Studies, 5(20), 159-174. Retrieved from https://www.humanamente.eu/index.php/HM/article/view/199
Copyright (c) 2012 the author
This work is licensed under a Creative Commons Attribution-NonCommercial-NoDerivatives 4.0 International License.