Practical Self-Deception
Eric Funkhouser

University of Arkansas, USA
Keywords:
self deception, beliefs, practical identities
Abstract
Philosophical accounts of self-deception almost invariably treat it as a phenomenon concerning belief. But this article argues that, in the very same sense that we can be self-deceived about belief, we can be self-deceived about matters that concern our practical identities — e.g., our desires, emotions, values, and lifestyles. Given that our practical identities are at least as important to us as are our beliefs, philosophical accounts of self-deception should accommodate such practical self-deception.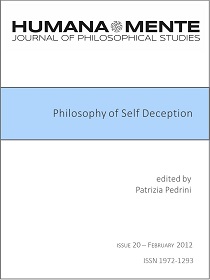 How to Cite
Funkhouser, E. (2018). Practical Self-Deception. HUMANA.MENTE Journal of Philosophical Studies, 5(20), 86-97. Retrieved from https://www.humanamente.eu/index.php/HM/article/view/195
Copyright (c) 2012 the author
This work is licensed under a Creative Commons Attribution-NonCommercial-NoDerivatives 4.0 International License.