Abortion and Kant's Formula of Humanity
Lina Papadaki

Department of Philosophy and Social Studies, University of Crete, Greece
Keywords:
abortion, Kantian perspective, pregnancy
Abstract
This paper examines the issue of abortion from a Kantian perspective. More specifically, it focuses on Kant's Formula of Humanity of the Categorical Imperative and the prohibition against treating humanity merely as a means. It has been argued by feminists that forcing a woman to continue a pregnancy against her will is treating her as a mere means for sustaining the fetus, a mere "fetal incubator" (Bordo, 1993). Accordingly, feminists believe, this constitutes an assault on her humanity, the capacity for rationally setting and pursuing her own ends. On the other hand, the woman who aborts her fetus can be seen as treating a being which has the potential for humanity merely as a means for her own ends. The Kantian discussion of abortion gives rise to a number of important questions: Does respecting the pregnant woman's humanity, and hence enabling her to have an abortion if she chooses that way, go against appropriately respecting the fetus? What does it really mean to respect a fetus' potential for humanity? Attempting to answer these questions helps us to see the Kantian prohibition against treating humanity merely as a means from a different, less familiar perspective, and puts out some new challenges to Kant's theory. At the same time, it gives us new and useful insights on the much-discussed issue of the fetus' status in the abortion debate.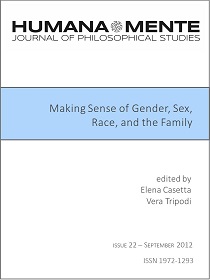 How to Cite
Papadaki, L. (2012). Abortion and Kant's Formula of Humanity. HUMANA.MENTE Journal of Philosophical Studies, 5(22), 145-166. Retrieved from https://www.humanamente.eu/index.php/HM/article/view/176
Copyright (c) 2012 the author
This work is licensed under a Creative Commons Attribution-NonCommercial-NoDerivatives 4.0 International License.