Researching vs. Reifying Race: The Case of Obesity Research
Koffi N. Maglo

Department of Philosophy, University of Cincinnati, USA

Lisa J. Martin

Department of Pediatrics, University of Cincinnati, USA
Keywords:
biomedical research, reification fallacy, continental genetic
Abstract
This paper deals with the reification of the concept of race in biomedical research. It combines philosophical analysis and a quantitative approach to investigate the ways in which the reification fallacy may occur in race research, thereby providing theoretical legitimacy to the misuse of scientific research. It examines the prevalence of obesity in the US and some African countries as an empirical case to guide a conceptual analysis. The paper suggests that, to avoid the reification of race, researchers need to be more aware of the fact that continental genetic clusters do not necessarily correspond to the genotypic partitions of interest in therapeutic reaction or disease etiology, and need to take seriously the phenotypic variability of breeding populations within continents.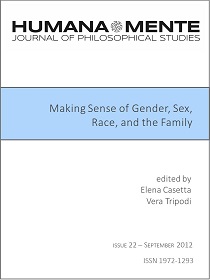 How to Cite
Maglo, K., & Martin, L. (2012). Researching vs. Reifying Race: The Case of Obesity Research. HUMANA.MENTE Journal of Philosophical Studies, 5(22), 111-143. Retrieved from https://www.humanamente.eu/index.php/HM/article/view/175
Copyright (c) 2012 the author
This work is licensed under a Creative Commons Attribution-NonCommercial-NoDerivatives 4.0 International License.