Making Tools and Planning Discourse: the Role of Executive Functions in the Origin of Language
Ines Adornetti

Roma Tre University, Italy
Keywords:
discourse coherence, executive functions, language evolution
Abstract
In this article we propose that executive functions play a key role in the origin of language. Our proposal is based on the methodological assumption that some of the cognitive systems involved in language functioning are also involved in its phylogenetic origin. In this regard, we demonstrate that a key property of language functioning is discourse coherence. Such property is not dependent on grammatical elements but rather is processed by cognitive systems that are not specific for language, namely the executive functions systems of action planning, control and organization. Data from cognitive archaeology on the making of stone tools show that the processes requested to produce Prehistoric tools imply action organization operations similar to those involved in the processing of coherence. Based on these considerations, we propose that executive functions represent the link between stone tool making and language origins and suggest that they allowed our ancestors to develop forms of proto-discourse governed by coherence.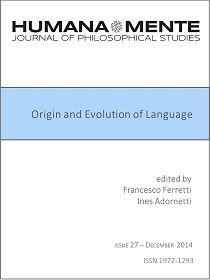 How to Cite
Adornetti, I. (2014). Making Tools and Planning Discourse: the Role of Executive Functions in the Origin of Language. HUMANA.MENTE Journal of Philosophical Studies, 7(27), 221-241. Retrieved from https://www.humanamente.eu/index.php/HM/article/view/105
Copyright (c) 2014 the author
This work is licensed under a Creative Commons Attribution-NonCommercial-NoDerivatives 4.0 International License.