Rethinking Categories within the Qualitative Dimension. Commentary on Heidegger's Duns Scotus' Theory of Categories and of Meaning
Giulia Lanzirotti

University of Turin, Genoa, Pavia, Vercelli – Consortium FI.NO., Italy
Keywords:
Theory of Categories, Heidegger, Duns Scotus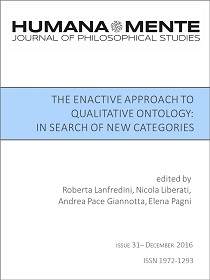 How to Cite
Lanzirotti, G. (2016). Rethinking Categories within the Qualitative Dimension. Commentary on Heidegger's Duns Scotus' Theory of Categories and of Meaning. HUMANA.MENTE Journal of Philosophical Studies, 9(31), 212-219. Retrieved from https://www.humanamente.eu/index.php/HM/article/view/55
Copyright (c) 2016 the author
This work is licensed under a Creative Commons Attribution-NonCommercial-NoDerivatives 4.0 International License.