The Existential Quality Issue in Social Ontology: Eidetics and Modifications of Essential Connections
Francesca De Vecchi

Vita-Salute San Raffaele University, Milan, Italy
Keywords:
social ontology, degrees of existence, ways of existence
Abstract
The present work deals with the quality issue in social ontology: the fact that social entities not only can exist or not exist, but can also be more or less achieved and be subject to degrees of existence, and the fact that social entities can be bearers of varieties of ways of existence, that is, there are several ways in which a social entity of a certain type can be realized. In accordance with phenomenological eidetics, I show that modifications of essential connections involve lacks or variations of essential parts of entities, which, respectively, imply degrees of existence and varieties of ways of existence which "enhance" the existence of social entities, and I argue that the modification issue hits the core of the quality of existence issue. Lastly, I focus on the essential connection of tendency as another case in which eidetics provides meaningful insights into the existential quality issue in social ontology.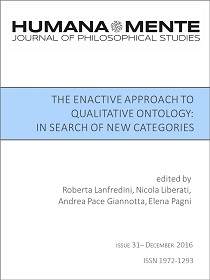 How to Cite
De Vecchi, F. (2016). The Existential Quality Issue in Social Ontology: Eidetics and Modifications of Essential Connections. HUMANA.MENTE Journal of Philosophical Studies, 9(31), 187-204. Retrieved from https://www.humanamente.eu/index.php/HM/article/view/51
Copyright (c) 2016 the author
This work is licensed under a Creative Commons Attribution-NonCommercial-NoDerivatives 4.0 International License.