Epistemology and Ontology of the Quality. An Introduction to the Enactive Approach to Qualitative Ontology
Andrea Pace Giannotta

Università degli Studi di Firenze, Italy
Keywords:
qualitative states, enactivism, ontology
Abstract
The notion of quality constitutes the title of a pressing philosophical problem. The issue of the location of the qualities of experience and reality leads to thematize the "clash" between the scientific and the manifest image, which also lays at the heart of the issues of naturalism and reductionism in the philosophy of mind. I argue that a transcendental version of the enactive approach constitutes a fruitful way to address these issues, thanks to its conception of the relation between subject and object as dependent co-origination. In this way, the enactive view constitutes an alternative to both the internalism and the externalism about qualities (which lead, respectively, to scientific and to naïve naturalism), constituting a processual and relationist framework that can be fruitfully applied to the analysis of different ontological domains. In the conclusive section, I distinguish between an ontological and a metaphysical interpretation of this view, stressing the advantages of the former.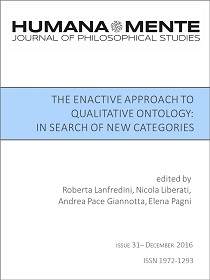 How to Cite
Pace Giannotta, A. (2016). Epistemology and Ontology of the Quality. An Introduction to the Enactive Approach to Qualitative Ontology. HUMANA.MENTE Journal of Philosophical Studies, 9(31), 1-19. Retrieved from https://www.humanamente.eu/index.php/HM/article/view/41
Copyright (c) 2016 the author
This work is licensed under a Creative Commons Attribution-NonCommercial-NoDerivatives 4.0 International License.