Digital Habitus or Personalization Without Personality
Alberto Romele

Lille Catholic University

Dario Rodighiero

Massachusetts Institute of Technology
Keywords:
Bourdieu, Habitus, Latour, Data visualization, Machine Learning
Abstract
Most of the existing studies on Bourdieu and the digital regards the social and class distinctions in the use of digital technologies, thus presupposing a certain transparency of technologies themselves. Our proposal is to refer to this attitude as "Bourdieu outside the digital." Yet in this paper, another perspective called "Bourdieu inside the digital" is developed, which moves the focus on the effects of some emerging technologies on social distinctions and discrimination.
The main hypothesis is that algorithms of machine learning are producers and reproducers of habitus. Although their results present a greater granularity with respect to the standard techniques of the past, these algorithms still reduce individuals to categories, general trends, classes, and behaviors. Such a reduction has flattening effects on the individuals' self-understanding, especially in terms of identity and interaction with the social world. This is the phenomenon described in the article as the "personalization without personality," whose consequences are both existential and social-political.
This idea will be illustrated through qualitative and comparative analysis between the correspondence analysis (CA) and the multiple correspondence analysis (MCA) used by Bourdieu in his works and some of those techniques that are performed today in big data analytics.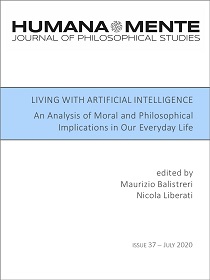 How to Cite
Romele, A., & Rodighiero, D. (2020). Digital Habitus or Personalization Without Personality. HUMANA.MENTE Journal of Philosophical Studies, 13(37), 98-126. Retrieved from https://www.humanamente.eu/index.php/HM/article/view/318
Copyright (c) 2020 Alberto Romele, Dario Rodighiero
This work is licensed under a Creative Commons Attribution-NonCommercial-NoDerivatives 4.0 International License.