It's the End of the Work as We Know It: End of the Work, Complete Automation, Robotic Anarcommunism
Pierpaolo Marrone

Università di Trieste, Italy
Keywords:
Technique, capitalism, anarchocomunism, total automation, labor
Abstract
In this article I explore some consequences of the relations between technique, capitalism and radical liberation ideologies (such as communism and anarcho-communism). My thesis is that the latter are going to rise to the extent that wage labor will become a scarce commodity. Through total automation, however, what may occur will not be the end of the reign of scarcity, but a new oppressive order.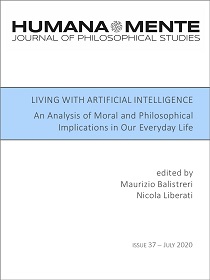 How to Cite
Marrone, P. (2020). It's the End of the Work as We Know It: End of the Work, Complete Automation, Robotic Anarcommunism. HUMANA.MENTE Journal of Philosophical Studies, 13(37), 1-18. Retrieved from https://www.humanamente.eu/index.php/HM/article/view/309
Copyright (c) 2020 Pierpaolo Marrone
This work is licensed under a Creative Commons Attribution-NonCommercial-NoDerivatives 4.0 International License.