Emotions and Digital Technologies
The Effects Digital Technologies will have on our Way of Feeling Emotions According to Postphenomenology and Mediation Theory
Keywords:
postphenomenology, mediation theory, intimate technologies, digital technologies, emotions
Abstract
Digital technologies are pervasively used, and they are becoming part of our everyday actions by being designed to be connected to every aspect of our private life like emotions. However, it is not very clear how they are going to change who we are through their tight intertwinement. Especially in relation to emotions, it is not clear at all what happens when they become digitalized and visualized through these digital devices. Usually, the research focusses on the effect on the privacy of the intrusion of digital devices in our lives as if this process of digitalization leaves the meanings human beings give to their emotions untouched. This article does not focus on the privacy related to the personal information captured by the devices, but it aims to open an analysis of the effects of this digitalization on the emotions in order to highlight the fact the introduction of these digital technologies change what emotions are.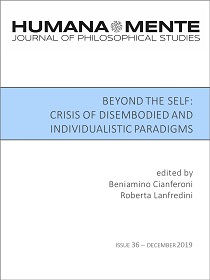 How to Cite
Liberati, N. (2019). Emotions and Digital Technologies. HUMANA.MENTE Journal of Philosophical Studies, 12(36), 292-309. Retrieved from https://www.humanamente.eu/index.php/HM/article/view/297
Copyright (c) 2019 Nicola Liberati
This work is licensed under a Creative Commons Attribution-NonCommercial-NoDerivatives 4.0 International License.