Probably the Charterhouse of Parma Does Not Exist, Possibly Not Even That Parma
Alberto Voltolini

University of Turin, Turin, Italy
Keywords:
fictional works, fictional surrogates, hyperrealism
Abstract
In this paper, I will claim that fictional works apparently about utterly immigrant objects, i.e., real individuals imported in fiction from reality, are instead about fictional individuals that intentionally resemble those real individuals in a significant manner: fictional surrogates of such individuals. Since I also share the realists' conviction that the remaining fictional works concern native characters, i.e., full-fledged fictional individuals that originate in fiction itself, I will here defend a hyperrealist position according to which fictional works only concern fictional individuals.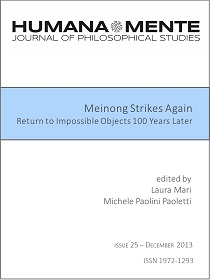 How to Cite
Voltolini, A. (2013). Probably the Charterhouse of Parma Does Not Exist, Possibly Not Even That Parma. HUMANA.MENTE Journal of Philosophical Studies, 6(25), 235-261. Retrieved from https://www.humanamente.eu/index.php/HM/article/view/142
Copyright (c) 2013 the author
This work is licensed under a Creative Commons Attribution-NonCommercial-NoDerivatives 4.0 International License.