Identity Expansion and Transcendence
William Sims Bainbridge

National Science Foundation, USA
Keywords:
communications technology, human identity, transhumanist movement
Abstract
Emerging developments in communications and computing technology may transform the nature of human identity, in the process rendering obsolete the traditional philosophical and scientific frameworks for understanding the nature of individuals and groups.  Progress toward an evaluation of this possibility and an appropriate conceptual basis for analyzing it may be derived from two very different but ultimately connected social movements that promote this radical change. One is the governmentally supported exploration of Converging Technologies, based in the unification of nanoscience, biology, information science and cognitive science (NBIC). The other is the Transhumanist movement, which has been criticized as excessively radical yet is primarily conducted as a dignified intellectual discussion within a new school of philosophy about human enhancement.  Together, NBIC and Transhumanism suggest the immense transformative power of today's technologies, through which individuals may explore multiple identities by means of online avatars, semi-autonomous intelligent agents, and other identity expansions.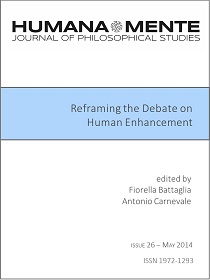 How to Cite
Bainbridge, W. (2014). Identity Expansion and Transcendence. HUMANA.MENTE Journal of Philosophical Studies, 7(26), 117-140. Retrieved from https://www.humanamente.eu/index.php/HM/article/view/118
Copyright (c) 2014 the author
This work is licensed under a Creative Commons Attribution-NonCommercial-NoDerivatives 4.0 International License.